On the 18th October 2011 Lewis Fraser and his friend Aaron McKevitt are taking on one of the most difficult challenges possible in order to raise money for the
Fungal Research Trust
, a major contributor to UK research into aspergillosis.
They are going to attempt to run 100 miles over 5 days which in itself is an extremely tough challenge, however Lewis & Aaron are doing this in the
Himalayan Challenge
where the air is thinner making breathing more difficult, altitude sickness a prime possibility and they have tens of thousands of feet to be climbed - they run equivalent of running up Ben Nevis three times on the first day alone!
Lewis is quoted in
this article
in a newspaper close to his home in Scotland
"It is going to be a gruelling event that will push us to our limits, dealing not only with the distance, but terrain and - most difficult of all - the altitude. I'm not worried about the competition - I just want to get to the finish line and raise as much money as we can for the charity. Originally we hoped to raise about £5,000, but already the figure is over £7,000, which is absolutely fantastic."

The Fungal Research Trust is a non-profit charity established in 1991 which aims to raise awareness of Aspergillus fumigatus.
You can read about the several severely debilitating forms of aspergillosis caused by
Aspergillus
in the
Aspergillus Website
. If the person infected has a compromised immune system the fungus can invade their body quickly and thus needs to be detected and treated quickly. We have an array of effective drugs with which to treat aspergillosis, many of which have been developed over the last 10 years but in some cases we still cannot detect the infection quickly enough to use the drugs early enough to make a difference. A
major focus
of the research
funded by the Fungal Research Trust
is to develop new tests t
o detect
Aspergillus
infections much more quickly.
Research like this costs a lot of money. We estimate £150 000 to fund a research project for 3 years which sounds a lot but if everyone in the UK alone who has been diagnosed with aspergillosis gave £1 a week we would be able to start straight away. The project funding can be applied for from anywhere in the world so we are asking for donations from anywhere in the world - no matter where you live we can help you with our research - the research could actually take place in the US or Europe.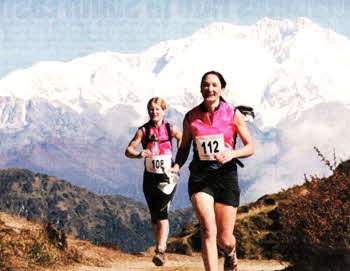 Stunning views, extreme effort in 2010
If you have any form of aspergillosis you will be able to find extensive support on the
Aspergillosis for Patients website
and on the website of the
National Aspergillosis Centre
, the only centre of its type anywhere in the world which is located in the University Hospital of South Manchester, Manchester, UK We specialise in treating several specific types of aspergillosis and severe asthma and advise doctors all over the world on how to treat aspergillosis of all types.
Read of other runners' experiences in this challenge in 2010
here
and
here
. Lewis & Aaron, it is probably best you don't read these experiences until after the challenge is over!
To support this extreme effort and an extremely worthy cause,
donate here